Roundup of the Best Apartment Views for City Skylines
The Closetbox Team • April 4, 2017
When you first visit a future apartment residence, the lobby can feel like little more than a place to get information about the apartment homes, interiors, amenities, policies, and neighborhood. Once you've lived there for even a short while, however, this lobby and other common areas between the entry door, elevators, and your front door become a daily source of mood enhancement and local community pride.
Whether or not these featured cities and apartment communities are on your short list, we suggest you to take a second, longer look at the lobby as a kind of extended entryway into your private residence. Here are some of our favorite lobbies from cities around the country.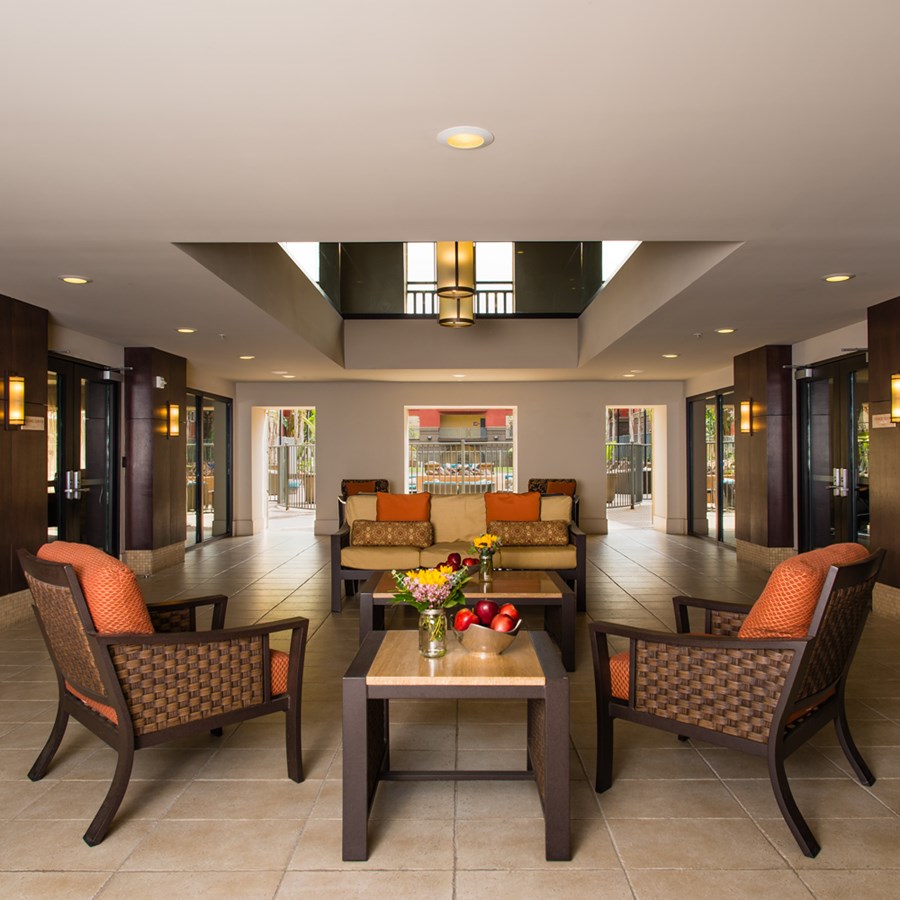 San Diego: Situated between Mission Valley and Miramar, this amazing north central San Diego location is paired with modern lobbies, lounges, and community fire pits. More than just the entry lobby, Mira Bella Apartments incorporates a number of incredible common gathering areas into its apartment community.
Chicago: Some downtown apartments exude a certain kind of heritage-driven design and architectural style throughout. The historic luxury at the Belden-Stratford isn't defined solely by the lobby, but it certainly sets the stage in a way that few apartment lobbies can. You'll want to check out the amenities, floor plans, and neighborhood, but a lot of future residents walk into this building and immediately know its for them.
Austin: The Whitley has a wonderful, modern interior lobby, and the practicality of the adjacent business center, but in Austin, you also have to have an incredible outdoor courtyard. You don't want to miss checking this spot out if you're looking at downtown Austin apartments.
Miami: You want to talk about the apartment scene in downtown Miami? The conversation starts with the sky-high demand that is leading at least one developer to use Miami as a test market for high-density, tiny apartments with limited parking. When it comes to lobbies, however, it's hard to beat the fish tank in the grand lobby of the Echo Brickell. We couldn't help ourselves, even if it is a condo community.
Las Vegas: In a city where the major entertainment venues are always in a game of one-upmanship with their lobby space, it's hard to find the perfect balance between residential sanctuary and visually stunning interiors that are never entirely removed from the local Vegas vibe. One spot that's definitely found that balance? The Aspire. As with the lobby, its western location along Route 215 can feel completely removed from the city at times and yet still get you to the heart of the strip in 20 minutes or less.
Detroit: If you're a lover of the Art Deco-style—and if so, you know who you are—you're likely to fall in love with LaVogue Square Apartments. Its vintage charm tends to elicit a love/hate response. But here's the real trick with these Detroit apartments: The interiors have been updated with a contemporary style that can compete with any downtown apartment community. Even lovers of the Art Deco style can admit they'd rather not live in it 24/7.
San Francisco: When these apartments talk about "Life at Ashton," and the serenity that comes with finding repose from the bustle of the city, they back it up with more than just spacious floor plans and high ceilings. Check out the Ashton, its main lobby and adjacent lounge areas, including a coffee bar and huge TV viewing area. Outside, you can also find a gorgeous fire pit.
Columbus: In stark contrast to more urban apartment lobbies, some apartment communities instead use larger tracts of land to boast office and clubhouse buildings that are themselves a sight to behold. This aptly describes the Island Club Apartments, as well as other communities in the north Columbus area.
Houston: We love interiors that have the daring and skill to pull off darker color schemes. Leave the "full-of-light" look to the floor plans, balconies, and facades. The lobby can be a place of quiet repose, as The Marq on Voss so wonderfully demonstrates.
Phoenix: Iluminate may not be one-of-a-kind across the entire country, but we'll tell you it's not easy to find its equal in the Valley of the Sun. These apartment homes stand ready to dispute the notion that there's no truly urban living scene within the greater metro area. Its vibrantly decorated interior lobby and pool lounge courtyard comprise a powerful 1-2 punch for those looking for downtown luxury.